Kaylla Brown (@kaylla.brown)
"Already a few days in and my hair is already feeling a lil bit brighter and stronger!"  
Niki Stachova (@nikolstach)
"Let's look after our hair, skin & nails with the Pink Bottle."
Andressaa Venancio (@andressaa_venancio)
"I've been using PINK for about 3 months now and I absolutly love it! I love it because it taste super amazing it feels like I'm having a candy that's actually going to increase my collagen synthesis, antioxidant activity + making my hair sling and nails looks absolutely amazing!!"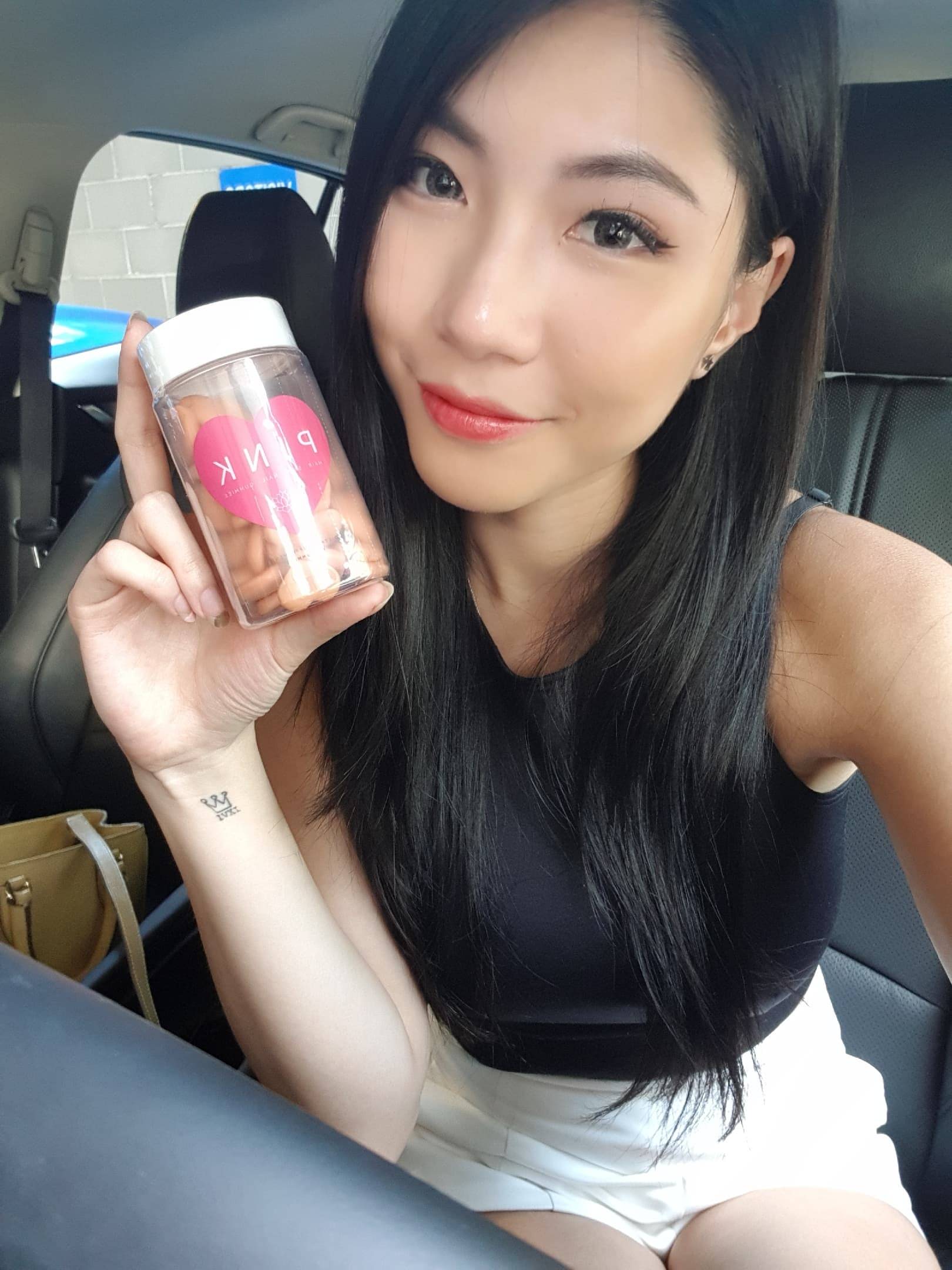 After 2 months of Pink bottle, she came back to Peace & Co. for 3 more.
"I've had so much trouble with my hair since I started dying it. However, since I started taking these hair gummies my hair has never felt better and grown as fast as it does. And trust me when I say they taste amazing. Sometimes I accidentally take one too many."
Business Owner
Pink bottle 3 Months Before & After
I've always had thin, soft hair that is very sensitive to either dry weather or just purely blow drying. Sometimes I wake up to bad hair because they get tangled and dry after one night of sleeping. Tried silk pillowcase and hair repairing mask but it just won't fix the problem. So I looked into giving vitamins to the roots of my scalp and my hair, I've definitely noticed the difference after having the pink bottle for 3 months. My hair is just so much stronger and silker, they has natural weight to them as well!
Student
Pink bottle 6 months before & after
"Since my hair is thin I tend to tease them a lot, ended up with very dry hair. The pink bottle has supplied nutrients to my hair so now I don't even need to tease them anymore. I've noticed the volume increase as well as the quality of my hair."
Student / Retail
Pink bottle 1 Month Before & After
"It's as sweet as it looks like, easy to put into a routine so it's hard to miss the daily dose of sweetness. I don't feel like I'm taking vitamins but the results are shocking, it really shows how much healthier I got just by eating 'candy' everyday. By the time I realized the bottle was already empty! Will definitely recommend to friends that has dry and damaged hair and wants to GROW hair FAST! "
Part time retail
Pink bottle 1 month before & after
"I love dying my hair and bleaching it. But of course split ends is inevitable. After the 3rd dye in a week my hair with split ends and dryness is just driving me crazy. Took the pink bottle 1 month with some deep conditioner, this definitely worked out great. My hair gained more weight and quality after a month of care taking. I'd say it's the magic of biotin which gives me a healthier scalp and repaired my hair. "  
★★★★★
"I'm so addicted to these hearts vitamins my hair is growing so fast ! So excited to take them next 6 months".
@jadoudoush
★★★★★
"Okay, not gonna lie. I'm officially addicted to your vitamin gummies. Hard to stop myself with just 2/day. They're sooo yummy!"
@phoenixandtheocean
★★★★★
"My nails become so long & strong after using this! After 3 babies in under 4 years my nails were so brittle & wouldn't grow! Using this has 100% regained length & strength in my nails in no time!"
@retreatyourself box customer feedback
★★★★★
"I have been taking this for few weeks now, and I do feel like my nails are stronger - because of my job, I have to wash hair A-LOT. My nails get brittle and break off a lot, but I have noticed stronger nail beds!"
@perthyums
★★★★★
"I've been skeptical with these, but I have been trying these for 2 weeks now, and officially HAVE NAILS for the First time ever! My nails have never been fast at growing or strong but these are 100% working!"
@sharna_mcguigan
Peace & CO. x Retreat yourself Box
partnership 2019

We value partnership with businesses around Australia, here's some feedback from 2000 customers that has tried the PINK bottle!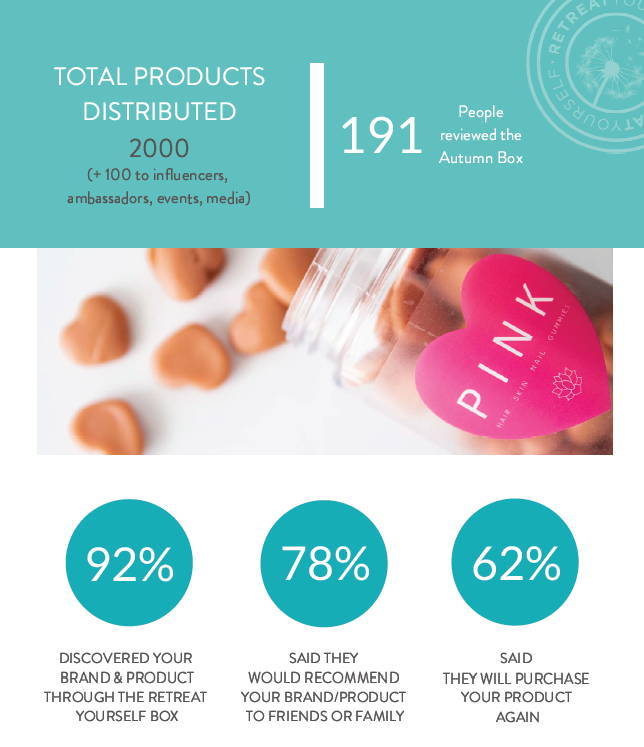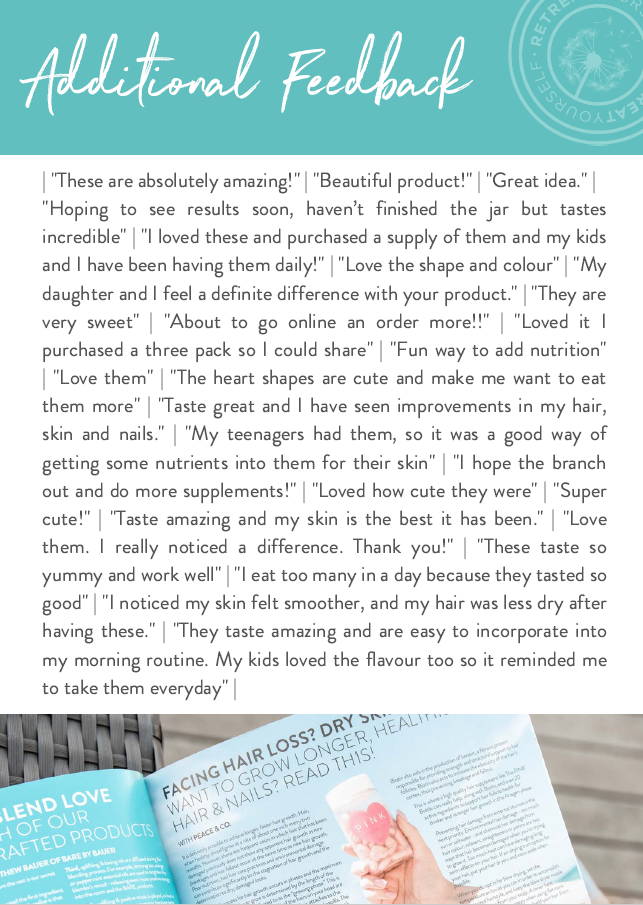 SHARE STORIES WITH FRIENDS
or
TELL US YOURS DOWN BELOW
&
GET FEATURED ON OUR WEBSITE!

For any photos / videos, please send it to : sales@peaceandco.net
Thanks!
This field is required
This field is required
This field is required